ASME Code Shop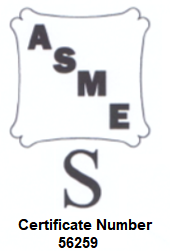 Mammoth Locomotive Works, LLC is an ASME code shop and has held an S stamp for many years.  During that time, the Company has built numerous code boilers in addition to non-code boilers.
Since its inception, Mammoth has completed non-code, hobby boilers and code boilers for commercial use, miniature through full-size including 7.5", 3", and 5" scales. As far as code boilers, Mammoth just completed serial number 1945.         
Usually, Mammoth is responsible for certified boiler projects from engineering to certification.
Mammoth Locomotive Participation on ASME Power Boiler Committee
The ASME establishes committees made up of highly-qualified engineers who participate in the standards development process on an ongoing basis.
Subgroup on Locomotive Boilers - BPV-1, SG-LB
The subgroup Locomotive Boilers, which is chaired by John Braun, is charged with establishing rules for locomotive boilers within Section I, Rules for Construction of Power Boilers.  John has been a participant on this Committee for ten years because of his expertise in the engineering, design and construction of locomotive boilers.
The BPV Committee on Power Boilers is charged with:  (1) establish, for publication in Section I of the Boiler and Pressure Vessel Code, rules relating to pressure integrity governing the construction of power boilers and high pressure, high temperature water boilers. Construction, as used in this Charter, is limited to materials, design, fabrication, examination, inspection, testing, certification, and pressure relief. (2) provide for publication of recommended guidelines for the care of power boilers in Section VII.
Mammoth Locomotive Boilers
Our boilers are all built to industry standards with best practices procedures and appropriate material.