Mammoth Locomotive Works, LLC
Mammoth Locomotive Works, LLC has been in the business of producing operating steam locomotives, cars and appliances, and ASME code as well as noncode boilers for more than 30 years.  Full-size experience runs the gamut from small repair jobs to full-size restorations.
There are a number of features that distinguish Mammoth from other companies in this field:
Mammoth is a concept-to-completion provider with the capacity to manage a locomotive construction or renovation project from start to finish inhouse.
Mammoth has repaired, replaced or built from scratch every piece on a full-size engine.
The Company is an American Society of Mechanical Engineer "S" stamp holder for the construction of power boilers.  All boiler work--code or non-code--is done onsite.
All engineering and design work is done inhouse.
Quality control is built into all processes and is transparent to customers and governing agencies (e.g., ASME) alike.

Construction and restoration projects include work for entities such as:
San Juan Historical Society

Mammoth Locomotive Works is a Company dedicated to producing the finest steam powered equipment available today with a workforce that is 100% American.  All manufacturing is done in the United States.
The Team
The core Mammoth Locomotive team is located in Palisade, Colorado.  A distributed team of purchasing agents, pattern makers, machinists, foundries, and other personnel is located around the country.
John Braun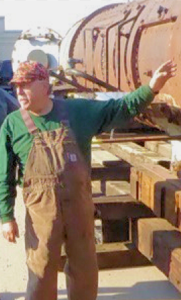 Owner and Chief Mechanical Officer John Braun has owned the Company continually since its inception.  He is a member of the American Society of Mechanical Engineers and a Boiler and Pressure Vessel Committee member of the American Society of Mechanical Engineers.
Most importantly, however, he is a craftsman--something that is evident in everything he produces.  The ability to produce an entire locomotive from a design concept--and little else--is becoming a lost art.
Some people excel at certain aspects of the construction but there are very few--if any--that can design and build all aspects.    Whether it is a wheel or a code boiler, he knows what every step is--and can complete every step--in order to produce a finished item.
Since it would be counterproductive to concentrate all project knowledge in the hands of one person, project details are well-documented for customers and other team members alike.
Current Projects
Mammoth is currently working on a full-size locomotive project that will be donated ultimately to a historical society.
Our Facilities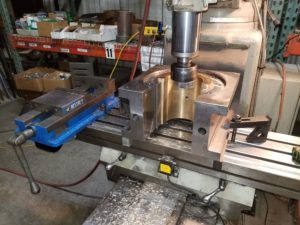 Our facilities include approximately 7500 square feet of space located off the UP mainline in Palisade, Colorado.   We have  two large milling machines,  a medium size one and a smaller horizontal machine.  All this machinery is extremely well-tooled. 
We have 400 amp three-phase power, a 41" swing lathe, a 17" swing lathe, a 16" swing lathe, and smaller lathes.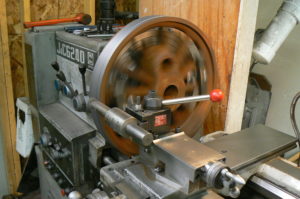 All of this is in addition to seven welding machines covering everything from stick, TIG, MIG to plasma cutting.  We have all the necessary track torches, hand torches and hand tools necessary for our work.  We can set up to 2" rivets with our guns and snaps; and, have approximately 30 tube rolls for any size tube up to 4".   Our wood shop is comprised of a 24" 10-HP commercial planer, a professional 12" table saw with extended tables, a molding machine, 8" joiner, band saws, drum sander and dozens of wood working power hand tools.